NEWSLETTER JANUARY 2022
Government planning legislation continues to pose the single greatest threat of overdevelopment for the entire southeast. A White Paper in the autumn of 2020 proposed removing the few protections that remain for communities targeted by speculative developers. Councils would have been compelled to identify land "zoned" for development, where applications would receive automatic approval. A centralised algorithm would have imposed housing targets even less reasonable than the existing ones. Resistance across the political spectrum was so strong that these proposals were quietly paused for further consideration. Recently, there have been warm words from government about prioritising the development of brownfield land instead. This is not, however, what is happening on the ground. Nationally, the proportion sites with planning permission that are brownfield is the lowest since records began: 44% vs 53% last year (November 2021 report by Campaign to Protect Rural England). Developers continue to focus on more profitable, greenfield sites even as these become more vital in addressing the climate and biodiversity crises. Nor, at the time of writing, has the government published any new White Paper to formalise a change of direction. It is very important that all residents who have not yet done so contact our MP Mims Davies (mims.davies.mp@parliament.uk) to make their views clear and request her support.
200 houses at Scamps Hill: The developers, Southern Housing Group, announced their intention to begin roadworks in the autumn before having an approved construction management plan. This provision is required and will be important for keeping HGV traffic away from the High Street. Our and others' representations to Mid Sussex District Council resulted in an official reminder to the developers that work may not begin without such a plan. Planning permission unfortunately has been secured for this scheme, but we can still work to ensure that required procedures are followed to provide a level of protection from its impact. 48 houses off High Beech Lane: Regular flooding of neighbouring streets and properties has accompanied construction works by developers Croudace. This was predictable and indeed predicted, given the history of flooding and land instability in this area. Again, regrettably, planning permission has been granted, so efforts must focus on minimising the negative impact by enlisting the council's enforcement officers.
Blocks of flats on Tavistock and Summerhill School site: On a more positive note, the applicants' appeal, following the council's refusal of permission, was unsuccessful. It is notable that the appeal failed specifically because of the effect the scheme would have had on the "character and appearance of the area". This precedent should provide protection from blocks of flats in Lindfield.
Heavy Goods Vehicles in Lindfield: the Parish Council has carried out consultation that supports an HGV restriction (except for access) on Lewes Road between Gravelye Lane and the High Street. We look forward to a response from West Sussex County Council during the first quarter of 2020.
The Society was glad to be able to resume its talks programme in the autumn and is proposing some new initiatives, including a heritage trail in the village. We wish all our members health and happiness in the New Year.
Newsletter August 2021
Readers may recall that the government published a White Paper in the autumn proposing a radical overhaul of planning legislation. We reported in our January newsletter that these proposals posed the single greatest threat of overdevelopment for the entire South East. Opposition has grown in the meantime across the political spectrum, but at the time of writing, the government continues to defend the "reform". It appeared in the Queen's Speech in May and a bill can be expected in the autumn. The changes would take the country back to an era of unregulated development, in which new low-cost housing would continue to be notable by its scarcity.
A decade of developer-friendly legislation has already left its mark on Lindfield and many other communities. Our village has absorbed four major developments since 2012, with two more on the way. Our population has increased by more than 1,200 (24%). 660 more cars have spilled onto narrow village roads. No new infrastructure has been added, while irreplaceable countryside is being lost and its fragile ecology compromised. Moreover, with approved site for more than 7,000 homes in Mid Sussex (a ten year supply at the current build rate), no case can be made that this expansion has anything to do with local, or even regional need. It is speculative development pure and simple.
Current legislation already smooths the way to planning approvals and allows developers to accumulate these permissions in "land banks" that considerably enhance the value of their balance sheets. They are then free to release housing at a level consistently below demand, keeping prices high. Nationally, more than a million planning permissions are lying unused. It is clearly a myth that house building is being held back by onerous planning regulations.
Nevertheless, the new legislation would strip away the few protections that remain for communities: councils would be compelled to zone enough land for development to accommodate centrally dictated housing targets (the White Paper projects 1,305 units per year for Mid Sussex, 72% above the current build rate). Developers' schemes in these zones, based on pre-approved "design codes", would receive automatic approval. Local oversight would therefore disappear altogether.
A decade's experience has shown that turning developers loose to do largely as they please does not improve the housing supply. A national shortage of truly available housing stubbornly persists today, while desirable locations are hammered by unneeded and unwanted speculative housing schemes. There is no reason to expect anything different from granting developers even more license. We urge readers to contact our MP Mims Davies (mims.davies.mp@parliament.uk) to make their views clear and ask for her support. The Society's open letter to Ms Davies is available for reference on our website under Latest News.
The Campaign to Protect Rural England also warns that the government's plans "pose a huge risk to the countryside and the communities living and working within it". You can lend your support to national opposition by signing a petition on the CPRE website.
Lindfield Society Talks Programme
Our talks programme and the AGM regrettably remain on hold due to Covid restrictions. We intend to resume activities once the safety of public gatherings has been established reliably. Provisional upcoming talks are: 8 Sept, Geoffrey Mead, "Hearth and Home: Sussex Building Materials"; 6 Oct, Roger Smith, "Sinkholes, etc: Hazards which could affect your house"; 9 Nov, Jeremy Clarke, "Introduction to Timber Framed Buildings".
Readers are reminded of two publications – Lindfield by Jane Reid and Five Walks around Lindfield that are available through our website.
Newsletter January 2021
2020 has been an extraordinary year and we hope you and your families are safe and well. As you know, we had to cancel our AGM and the talks programme, which we hope to resume later in 2021. Our 2021 AGM is of course dependent on Covid guidelines at the time. We will contact you should it become necessary to postpone it.
Planning issues
The biggest threat now facing the entire southeast is the government's White Paper, "Planning for the Future". The new proposals, following a decade of overdevelopment, would grant developers even further license to escape local control. We would point out three areas in which the proposals are fundamentally flawed:
1) They would create a zonal planning system, in which applications based on pre-approved "design codes" receive automatic approval. This would eliminate a whole stage of local oversight, increasing the likelihood of unsuitable building schemes.
2) They would establish a centralised algorithm to impose higher housing targets on local authorities. This would be at best a very blunt instrument that would be blind to local geography, ecology and building patterns.
3) The centrally imposed targets would be entirely unrealistic. The new housing target for Mid Sussex, for example, would be 1,305 units per year – 72% above current build rates. The imposition of such an implausible requirement would only ensure that the local authority remains in default, making us even more vulnerable to speculative schemes.
It is notable that these proposals have drawn condemnation from across the political spectrum. Media reports now indicate that the government may alter its position at least partially. We encourage all members who have not already done so to contact our MP Mims Davies (mims.davies.mp@parliament.uk) to make their views clear and to request her support. The Society's open letter to Ms Davies is available for reference on our website under Latest News.
Croudace scheme for 48 houses off High Beech Lane: planning permission has been granted and works have begun on a site with a well attested history of flooding and land instability. Neighbours of the site were promptly subjected to flooding and have called on the Council to issue a stop order halting construction until an independent, expert analysis can find a permanent solution.
Haywards Heath Golf Course: Fairfax the developers have withdrawn their application for 725 homes. There are no further developments at the time of writing.
200 houses at Scamps Hill: Southern Housing Group announced in June its intention to build 200 dwellings south of Scamps Hill and subsequently submitted a detailed ("reserved matters") planning application. Regrettably, the Secretary of State gave outline planning permission in 2018, so development in some form will take place. There is some irony in a charitable housing trust carrying out this unwarranted assault on our community. The Society has objected, although we are limited now to commenting on the details of the scheme.
Blocks of flats on Tavistock and Summerhill School site: There was a victory for common sense in August when a Planning Committee refused permission for this scheme. The proposal, comprising 34 flats and four "town houses", is an urban concept entirely out of keeping with the rest of Lindfield's built environment. The applicants have lodged an appeal, which is likely to result in a public hearing before a government Planning Inspector.
T
he Society reviewed on the order of 200 planning applications in 2020, taking a public position where we found it appropriate.
Other Matters
H
eavy Goods Vehicles in Lindfield: West Sussex County Council Highways department continues to resist an HGV ban (except for access) on Lewes Road between Gravelye Lane and the High Street. The HGV ban seems to us to be an entirely sensible proposal that would largely remove the temptation for hauliers to use Lindfield as a short cut to and from sites farther east. We will continue to lobby for this measure.
M
any charitable causes have suffered considerable financial hardship during the Covid epidemic. The Charities Commission has urged other charities to help where they can. We have accordingly made one-off donations to a small number of local organisations that have continued to provide services to the public in Sussex and which are relevant to our membership and mandate: St Peter and St James Hospice, Lindfield Branch of the Royal British Legion, Lindfield Bonfire Society, Friends of Princess Royal Hospital, Chestnut Tree Children's Hospice, King Edward Hall, and the Campaign to Protect Rural England (Sussex branch).
Our website (www.lindfieldsociety.org.uk) has now been revamped and updated to make it more accessible and informative. Please have a look and also mention it to acquaintances who may be interested in the preservation and sympathetic development of Lindfield.
We were not able to present Conservation and Design Awards in person in 2020, but we recognised two examples of outstanding design by homeowners. We continue to be on the lookout and hope to continue the programme with further awards in 2021.
We look forward to a return to more normal conditions in the coming months. The usual challenges will still be there and we always welcome new members, particularly to our management committee.
We would like to thank you for your support in 2020 and wish you and your families health and happiness in the New Year.
"Five Walks around Lindfield" features walks, with hand drawn maps, ranging from 3 to 6 miles. Each was re-walked, with dog, in 2017 and updated in 2020.
Price £1 per copy
"Lindfield"
by Jane Reid. Jane first published this description of Lindfield and its history in 1983 and updated it in 2019. Each section is illustrated by the author's line drawings. T
he Society acts as Jane's agent.
Price £4 per copy
For information about how to purchase the above publications, please email:  catherinecross@tiscali.co.uk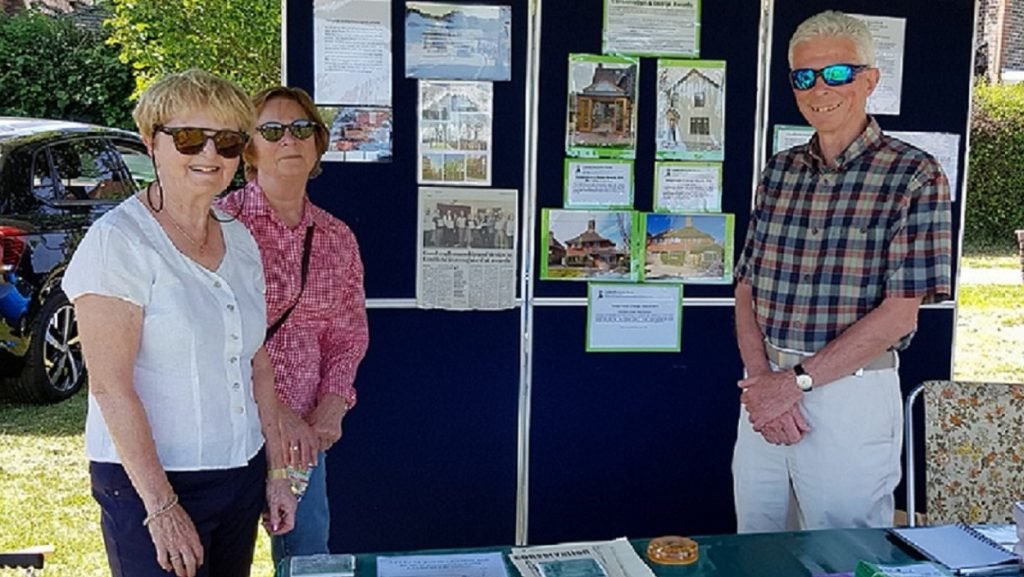 The Society has a stall at the annual Village Fair – this is 2019.
We hope the Fair will be back with us in the summer of 2021 .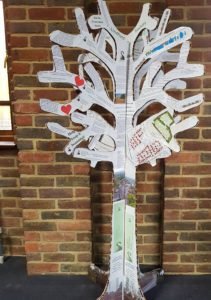 The Society entered a decorated "tree" in the Community Orchard project organised by the Arts Festival in autumn 2018. It certainly was not the most artistic effort, but we believe it represented what the Society was all about – involvement in planning applications that are detrimental to the look and feel of the village. Our aim is to promote and encourage the sympathetic development of the village and preserve the trees and hedgerows surrounding it.