THE TALKS PROGRAMME HAS BEEN POSTPONED DUE TO CORONAVIRUS BUT WILL BE CONTINUOUSLY REVIEWED. THE TALKS PROPOSED FOR LAST YEAR WILL BE RESUMED TOWARDS THE END OF 2021, AS SOON AS RESTRICTIONS LIFT.
All events are held at the King Edward Hall, Lindfield.
Everyone is welcome. Admission is free to members and non-members, but a small donation
at the door for the illustrated TALKS would be welcome, to defray costs.
TALK: Tuesday 11 February 2020. 2.30pm. "Come fly with me – An odd thing happened today at the airport". by Neil Sadler. International airports are fascinating places to pass through. But have you ever wondered what happens if you work at one….especially as a police officer at Britain's second busiest airport, London Gatwick.
T
ALK:

Tuesday 10 March 2020 2.30pm. "Wakehurst: then and now". by Paul Reader A brief look at the early history of Wakehurst, a more detailed look from around 1900 when the garden was developed by Gerald Loder and up to the last private owner and the following relationship between the National Trust and Kew. The talk also includes images of the great storm of 1987 and the developments that have occurred since this time.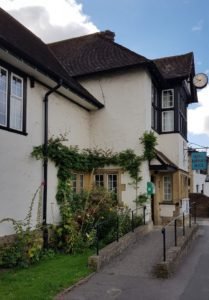 AGM Wednesday 15 April 2020 2.30pm – AGM CANCELLED DUE TO CORONAVIRUS
After the official business, there will be a short illustrated TALK about Art Nouveau & Art Deco by Ian Gledhill, which follows on from the very interesting presentation at last year's AGM and gives further information on the development of this highly decorative style of architecture. This will be followed by the presentation of the Conservation & Design awards 2020 and refreshments.
T
ALK: Wednesday 9 September 2020 2.30pm. "Hearth & Home: aspects of Sussex housing and its building materials". by Geoffrey Mead. "Hearth & Home" looks at the variety of traditional building materials available in the county and how geology and trade routes have given us the rich legacy we have today of vernacular buildings. From the complex of sandstones, clays and limestones that is Sussex, plus its accessibility to Continental influences, we have a wide range of building types, with styles which have influenced much later architectural work.

TALK: Wednesday 7 October 2020. 2.30pm "Sinkholes, Deneholes, Mining, Landslips and Other Geological Hazards which could affect your house" by Roger Smith. This talk shows little known geological features which can be encountered in S E England, including examples from Mid Sussex. The areas in which they are most common are identified and need to be recognised and allowed for by designers and builders. Other features discussed include Radon, Earthquakes and the positions of former quarries and sand pits.
T
ALK:
Tuesday 10 November 2020. 2.30 pm "An Introduction to Timber-Framed Buildings of the Weald" by Jeremy Clarke. The talk will introduce the study of timber-framed dwellings and some of the features used to determine their age, and will provide an overview of the progression of traditional house designs from 1400 to 1700 and how, along with other construction details, this can be used to date standing buildings and their subsequent alteration.