THE TALKS PROGRAMME HAS BEEN RESUMED – ALL NECESSARY PRECAUTIONS WILL BE FOLLOWED, AS SAFETY REMAINS OUR PRIME CONCERN.
All events are held at the King Edward Hall, Lindfield.
Everyone is welcome. Admission is free to members and non-members, but a small donation
at the door for the illustrated TALKS would be welcome, to defray costs.
TALK: Tuesday 8 February 2022 2.30pm. "(Almost) Death in Paradise, The Caribbean, Pirates and Rum". by by Neil Sadler. Working with the police in Trinidad, Barbados and possible holiday destination ideas….or not! The fictional TV island of Saint Marie. The real pirates of the Caribbean, the Piratical code: what time did they go to bed? The answer's Rum… now what was the question?, So, let's limbo……

TALK: Tuesday 8 March 2022 at 2.30pm "Art Nouveau Architecture" by Ian Gledhill. This talk follows on from the very interesting talk at the 2019 AGM and gives further information on the development of this highly decorative style of architecture.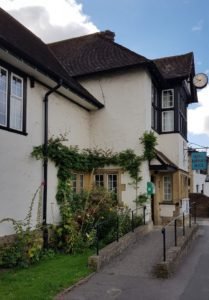 Our AGM was held on Wednesday 13 April 2022 AT 2.30pm
Presentation of the 2020 and 2021 Conservation and Design Awards.
Approval of the Society's accounts for the year 2021. Chairman's report of activities for the year 2021.
Election of the management committee.
Society's 60th Anniversary and Jubilee Heritage Trail.
Presentation of key future directions identified by the management committee, followed by discussion and decision.
Saturday 4 June 2022 – Join us on the Society's stand at Lindfield Day by the Common.
TALK: Wednesday 14 September 2022. 2.30 pm "Wakehurst – Covid – and beyond" by Paul Reader. A look at some of the work started in and around the time that Wakehurst went into "lockdown", the effect lockdown had on the garden, how these new projects are progressing and discussion of some of the latest project ideas for the botanic garden. Also a look at how the Millennium Seed Bank was affected by the the pandemic.
TALK: Wednesday 12th October 2.30 pm "Life as a Genealogist" by Mathew Homewood. Work as a genealogist is rarely dull. Researching family trees over the past fifteen years has revealed an incredibly diverse collection of life stories, from mining communities in Wales to circus entertainers in Russia. In this talk Mathew will discuss many aspects of his work, which are both informative and entertaining. He will discuss his 'seven rules of genealogy', talk about the pitfalls to avoid in family history research, and reveal a selection of fascinating documents he has discovered. He will also regale us with some of the more unusual and amazing family history stories he has uncovered over the years, including uniting a 61-year-old man with his mother for the first time.
TALK: Tuesday 8 November 2022 2.30 pm "A small slice of the Big Apple" by Neil Sadler. New York the city that never sleeps. Why is it often called the Big Apple? What have Bob Hope, Max Factor and Charles Atlas in common? How much does it cost to run a hot dog stall in Central Park (allegedly)? Who is Charles B Sullenberger and what is his link with New York City? Which famous movies were filmed in NYC….and who had a surprise cameo role in the 1992 film "Home Alon 2"? And many many more fascinating and quirky facts.