Newsletter January 2021
2020 has been an extraordinary year and we hope you and your families are safe and well. As you know, we had to cancel our AGM and the talks programme, which we hope to resume later in 2021. Our 2021 AGM is of course dependent on Covid guidelines at the time. We will contact you should it become necessary to postpone it.
Planning issues
The biggest threat now facing the entire southeast is the government's White Paper, "Planning for the Future". The new proposals, following a decade of overdevelopment, would grant developers even further license to escape local control. We would point out three areas in which the proposals are fundamentally flawed:
1) They would create a zonal planning system, in which applications based on pre-approved "design codes" receive automatic approval. This would eliminate a whole stage of local oversight, increasing the likelihood of unsuitable building schemes.
2) They would establish a centralised algorithm to impose higher housing targets on local authorities. This would be at best a very blunt instrument that would be blind to local geography, ecology and building patterns.
3) The centrally imposed targets would be entirely unrealistic. The new housing target for Mid Sussex, for example, would be 1,305 units per year – 72% above current build rates. The imposition of such an implausible requirement would only ensure that the local authority remains in default, making us even more vulnerable to speculative schemes.
It is notable that these proposals have drawn condemnation from across the political spectrum. Media reports now indicate that the government may alter its position at least partially. We encourage all members who have not already done so to contact our MP Mims Davies (mims.davies.mp@parliament.uk) to make their views clear and to request her support. The Society's open letter to Ms Davies is available for reference on our website under Latest News.
Croudace scheme for 48 houses off High Beech Lane: planning permission has been granted and works have begun on a site with a well attested history of flooding and land instability. Neighbours of the site were promptly subjected to flooding and have called on the Council to issue a stop order halting construction until an independent, expert analysis can find a permanent solution.
Haywards Heath Golf Course: Fairfax the developers have withdrawn their application for 725 homes. There are no further developments at the time of writing.
200 houses at Scamps Hill: Southern Housing Group announced in June its intention to build 200 dwellings south of Scamps Hill and subsequently submitted a detailed ("reserved matters") planning application. Regrettably, the Secretary of State gave outline planning permission in 2018, so development in some form will take place. There is some irony in a charitable housing trust carrying out this unwarranted assault on our community. The Society has objected, although we are limited now to commenting on the details of the scheme.
Blocks of flats on Tavistock and Summerhill School site: There was a victory for common sense in August when a Planning Committee refused permission for this scheme. The proposal, comprising 34 flats and four "town houses", is an urban concept entirely out of keeping with the rest of Lindfield's built environment. The applicants have lodged an appeal, which is likely to result in a public hearing before a government Planning Inspector.
The Society reviewed on the order of 200 planning applications in 2020, taking a public position where we found it appropriate.
Other Matters
Heavy Goods Vehicles in Lindfield: West Sussex County Council Highways department continues to resist an HGV ban (except for access) on Lewes Road between Gravelye Lane and the High Street. The HGV ban seems to us to be an entirely sensible proposal that would largely remove the temptation for hauliers to use Lindfield as a short cut to and from sites farther east. We will continue to lobby for this measure.
Many charitable causes have suffered considerable financial hardship during the Covid epidemic. The Charities Commission has urged other charities to help where they can. We have accordingly made one-off donations to a small number of local organisations that have continued to provide services to the public in Sussex and which are relevant to our membership and mandate: St Peter and St James Hospice, Lindfield Branch of the Royal British Legion, Lindfield Bonfire Society, Friends of Princess Royal Hospital, Chestnut Tree Children's Hospice, King Edward Hall, and the Campaign to Protect Rural England (Sussex branch).
Our website (www.lindfieldsociety.org.uk) has now been revamped and updated to make it more accessible and informative. Please have a look and also mention it to acquaintances who may be interested in the preservation and sympathetic development of Lindfield.
We were not able to present Conservation and Design Awards in person in 2020, but we recognised two examples of outstanding design by homeowners. We continue to be on the lookout and hope to continue the programme with further awards in 2021.
We look forward to a return to more normal conditions in the coming months. The usual challenges will still be there and we always welcome new members, particularly to our management committee.
We would like to thank you for your support in 2020 and wish you and your families health and happiness in the New Year.
Newsletter July 2020
Despite the extraordinary times, some things never change! Current planning challenges:
HAYWARDS HEATH GOLF CLUB
This widely opposed application for 725 homes has been withdrawn. Given the potentially large profits involved, it would be advisable to view this as a tactical retreat. The would-be developers, having failed to get this site included in Mid Sussex District Council's last allocation of development sites, are bound to try again. Continuing vigilance will be required.
HIGH BEECH LANE / PORTSMOUTH WOOD CLOSE
The Council has allowed work to resume on the entrance to this site. Croudace, the developers, subsequently submitted a long-required analysis of slope stability. A professional review of this study, commissioned by concerned neighbours, has cast doubt on its reliability. The Council has now commissioned its own independent review of the evidence. There is a well attested history of land instability and flooding in this area.
TAVISTOCK and SUMMERHILL SCHOOL SITE
There are, at the time of writing, no new developments. A highly inappropriate proposal for large blocks of flats was withdrawn in 2018 following widespread opposition. The case officer made a recommendation for refusal of a revised proposal, but solely on the grounds that the applicant had refused to provide for affordable housing or infrastructure contributions. The revised proposal remains a wholly unsuitable urban intrusion into the village environment. The applicants appear to be in negotiation with the Council over finances and we await yet another application. a refusal of permission for 200 dwellings, but the Planning Inspector also recommended refusal. Nonetheless, the then Secretary of State waved the proposal through in 2018. Southern Housing Group has now emerged as the builders and we await their application for detailed planning permission. We will argue for measures to at least soften the impact of this scheme, particularly on traffic and road safety.
There has also been a positive result on the planning front. We would like to congratulate residents who persisted in urging that ownership of the Wilderness Field be transferred to the Parish Council. Vigilance will now be required to ensure that it remains an untrammelled natural space.
We have had to postpone our annual AGM and Design Awards ceremony, but will invite the two award recipients to our 2021 AGM. A tree has been planted on the Common in remembrance of our departed colleague, John Jesson, a true friend of the village. We would like to thank Masters & Son for their generous donation of a memorial plaque.
We wish all our members good health.
Newsletter January 2020
We have continued in 2019 to be engaged in a number of planning issues. In 2018, the Secretary of State for Housing overruled both Mid Sussex District Council and a Government Planning Inspector's appeal decision by granting permission to Wates the developers for 200 homes south of Scamps Hill. No construction has taken place at the time of writing, but we will continue to monitor the situation with a view at least to limiting the impact on the community. The Secretary's decision is a very unfortunate demonstration of government planning policy, which remains heavily weighted in favour of development at any cost.
Another speculative application for 43 dwellings off High Beech Lane received outline planning permission in 2017. There was widespread opposition at the time, due largely to serious questions about land stability and flood risk in the area. Conditions were at least attached to the planning permission requiring analysis of these risks. Subsequently, the Council has granted detailed "reserved matters" planning permission, despite the fact that no such studies have been produced and despite four other planning conditions being breached. We are pressing for an independent evaluation and publication of the developers' risk analysis, if and when it appears.
The saga of proposed development on the site of the former Tavistock and Summerhill School continued in 2019. Following withdrawal of the original application for a large complex of blocks of flats and "townhouses", a slightly modified version has emerged. It remains an urban concept entirely out of keeping with Lindfield's character. We continue to urge that planning permission be refused.
A scheme for a very large development on the site of Haywards Heath Golf Club is at the time of writing in abeyance. The District Council has named the site an Asset of Community Value, which provides some protection, but that status now seems to be in doubt. It is in any case clear that the would-be developers will not give up. Vigilance will be required here.
We reviewed 120 planning applications over the year, taking a public position where we considered it appropriate.
The Society launched a programme of design awards in 2019. We were pleased to recognise the efforts of three households who have carried out building work using thoughtful design and materials that contribute to the sympathetic development of Lindfield. Certificates commending good craftsmanship and design will continue to be awarded at our annual AGM.
We expect 2020 to be another challenging year. We always welcome new members and in particular new participants on our management committee.
We would like to thank you all for your support in 2019 and wish you a happy and peaceful New Year.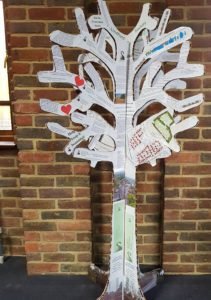 The Society entered a decorated "tree" in the Community Orchard project organised by the Arts Festival in autumn 2018. It certainly was not the most artistic effort, but we believe it represented what the Society was all about – involvement in planning applications that are detrimental to the look and feel of the village. Our aim is to promote and encourage the sympathetic development of the village and preserve the trees and hedgerows surrounding it.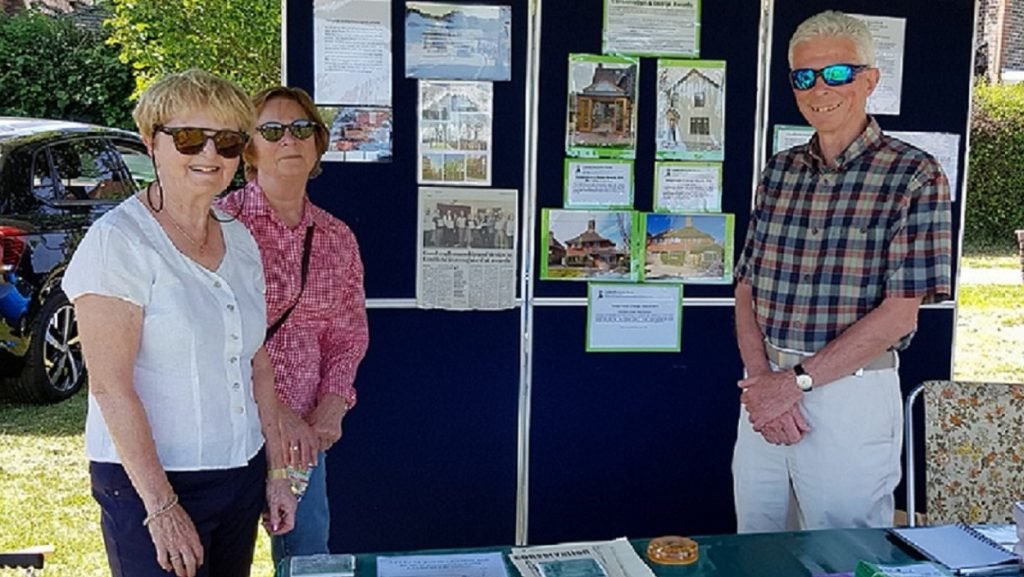 The Society has a stall at the annual Village Fair – this is 2019.
We hope the Fair will be back with us in the summer of 2021 .